Door de IR-controller instelbare uitgangsstroom , de driver met constante stroom LED van MOSO 60 W wordt op grote schaal gebruikt voor buitentoepassing, zoals schijnwerper, tunnellicht en straatverlichting. Uitgangsstroom Programmeerbaar waardoor de driver configureerbaar is met verschillende vraag, Power Constant helpt ook om de inventaris voor verschillende verlichtingsarmaturen te houden.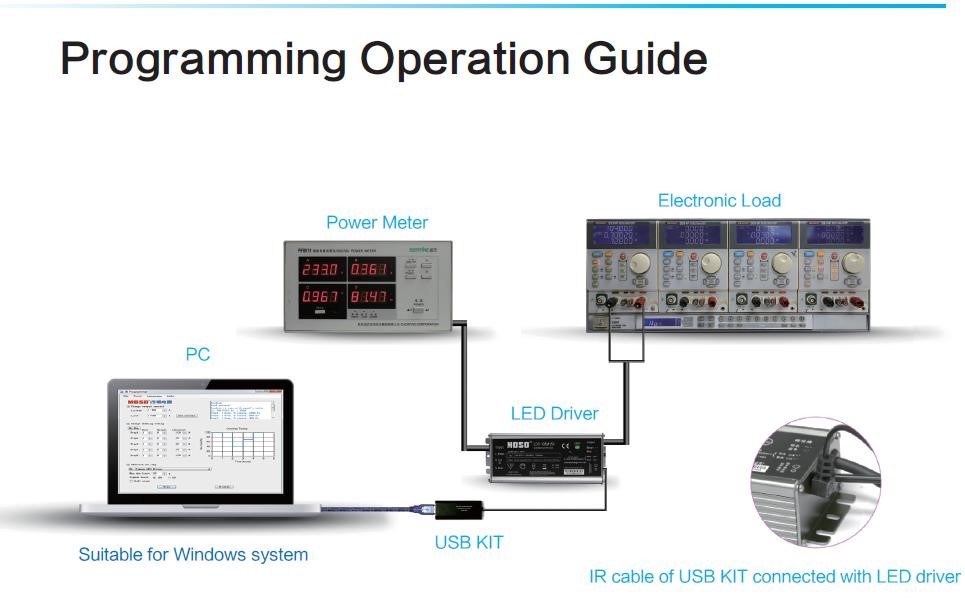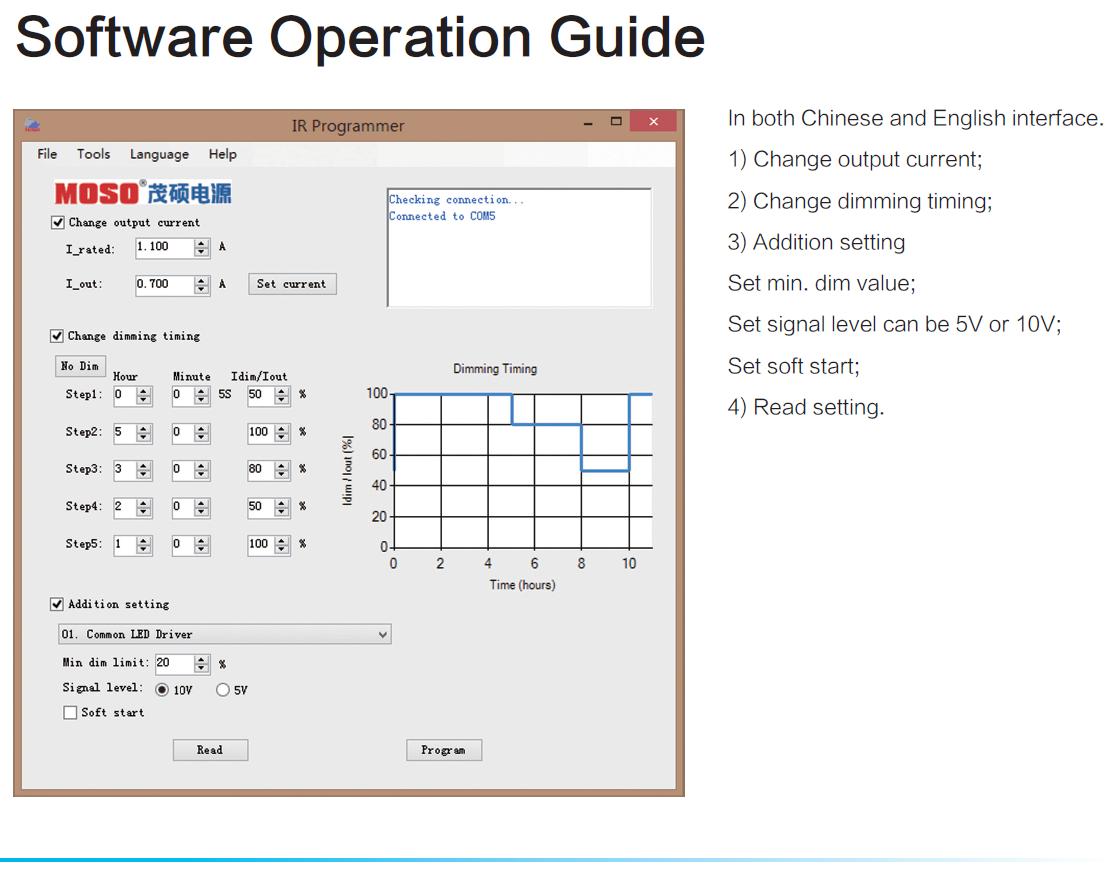 Producteigenschappen:

MCU-regeling gebruiken om het geleverde vermogen te beperken, uitgangsstroom configureerbaar, uitgangsspanning zelfreagerend;
Ingebouwde timmingcontrole, outputstroom kan door infrarode afstandsbediening worden aangepast;
Signaalamplitude kan 5V of 10V zijn;
Uitgerust met interactieve visuele software om de uitvoerinstellingen aan te passen;
Universeel ingangsspanning: (90-305) Vac;
Soft-switching gepatenteerde technologie, hoge efficiëntie tot 93%;
Algemene bescherming: kortsluiting / te hoge temperatuur / overspanning;
Surge immuniteit: DM-5KV, CM-10KV;
IP67, lijm gepot, geschikt voor droge / natte / vochtige locaties;
Voldoet aan CCC / CE / CB / ENEC / SAA / BIS / UL veiligheidsvoorschriften.
Omgevingstemperatuur: -40 ℃ ~ + 60 ℃.

Technische parameters:
Basic Specification
Series
LDP-060R
Part No.
LDP-060R080
Datasheet Link
Datesheet
Type
CC/CP
Vin (Vac)
90 ~ 305
Pout (W)
60
Vout Min
45
Vout Typ
-
Vout Max
80
Iout (A)
0.21~1.05

Full-Power Current Range (A)

(Only applicable for Programmabel Drivers with Constant Power Design )

0.75~1.05
No Load Voltage Max(V)
100
Vaux Typical Voltage (V)
-
Vaux Max Current (mA)
-
IP
67
Power Stages
1
Dimming
Timer dimming
Dim-to-Off
-
SCP Mode
Hiccup
OTP Mode
Decrease Current
Surge Protection L-L
5KV
Surge Protection L-GND
10KV
THD
≤15%
Power Factor @ 220 Vac
0.96
Power Factor @ 277 Vac
-
Power Factor @ 480 Vac
-
Eff. @ 220 Vac
87.0%
Eff. @ 277 Vac
-
Eff. @ 480 Vac
-
Application
Installation Type (Independent)
Yes
Installation Type (Built in luminaire)
Yes
Used for Dry & Damp Location
Yes
Used for Wet, Dry & Damp Location
Yes
Class I Luminaire
Yes
Class II Lumianire
-
TYPE TL
-
TYPE HL
-
Reliability
Calculated MTBF (hours)
200,000
Lifetime (hours)
50,000
Operating Temp min ( °C )
-40
Operating Ambient max ( °C )
60
Global Certification
UL
√
UL Listed


ClassP


CE
√
ENEC
-
CCC
√
PSE
-
TUV
√
KC
-
KS
-
CB
√
BIS
-
EAC
√
TUV
-
SAA
-
DALI test completed
-
Dimension
Dimension (mm) Length
169
Dimension (mm) Width
64
Dimension (mm) Height
39
Uitgangsspanning en stroombereik: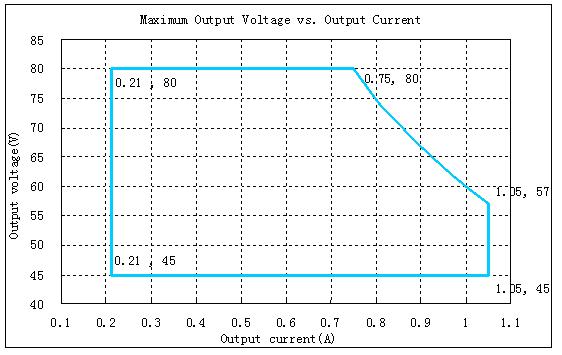 Productdimensie: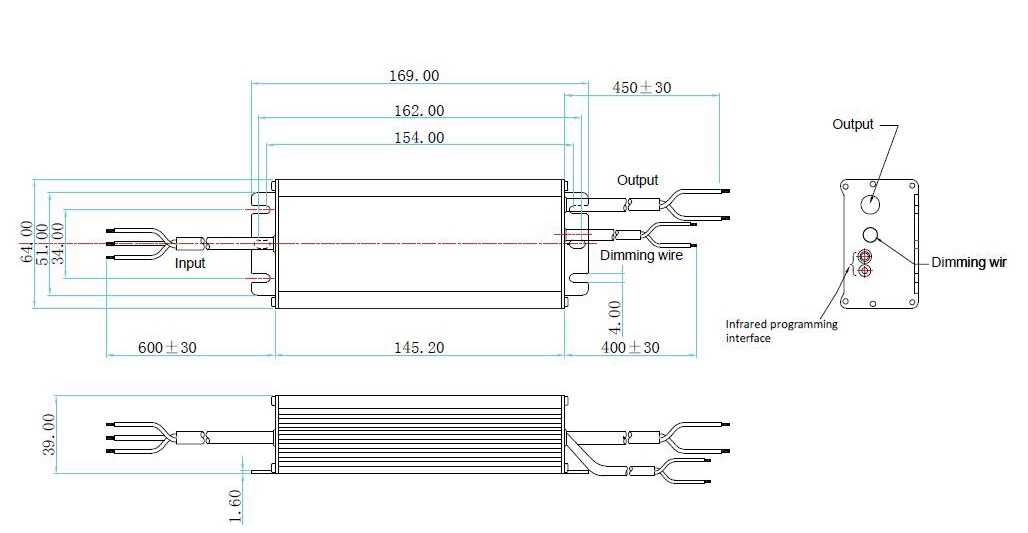 60 W Constante stroom LED Driver Model Lijst
Model
Max Output Power
Vout Range
Iout Range
Default Spec.
Dimmable
Efficiency
(W)
(VDC)
(A)
LDP-060M045
60W
24-45V
0.36-1.8A
36V 1.67A
Yes
87%
LDP-060M080
60W
45-80V
0.21-1.05A
57V 1.05A
Yes
87%
LDP-060M180
60W
80-180V
0.14-0.7A
86V 0.7A
Yes
87%
LDP-060R045
60W
24-45V
0.36-1.8A
36V 1.67A
No
87%
LDP-060R080
60W
45-80V
0.21-1.05A
57V 1.05A
No
87%
LDP-060R180
60W
80-180V
0.14-0.7A
86V 0.7A
No
87%
Buitentoepassing:
Het wordt gebruikt voor LED Street Light, Tunnel Light, Flood Light, Industrial Light, Grow Light, etc.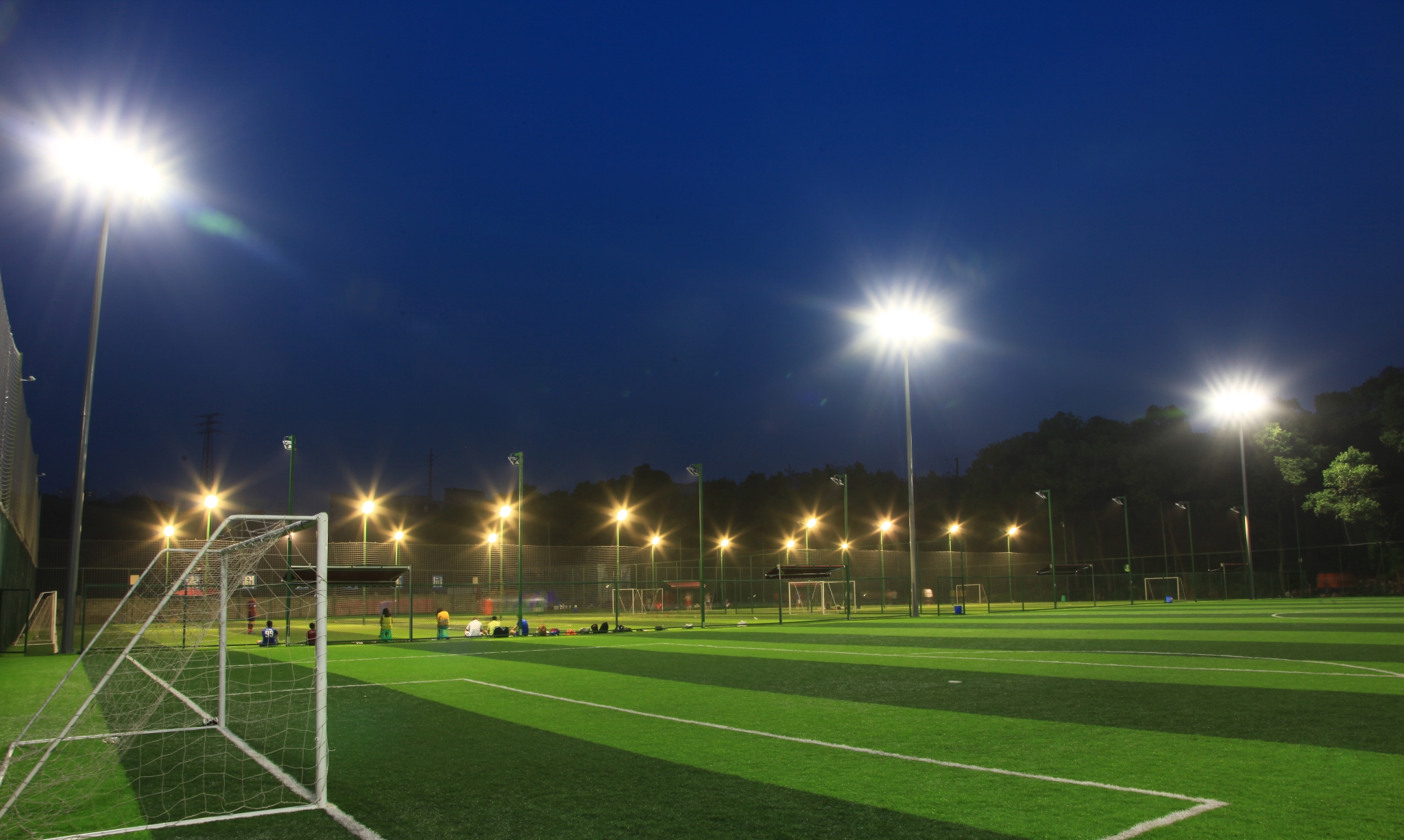 Over MOSO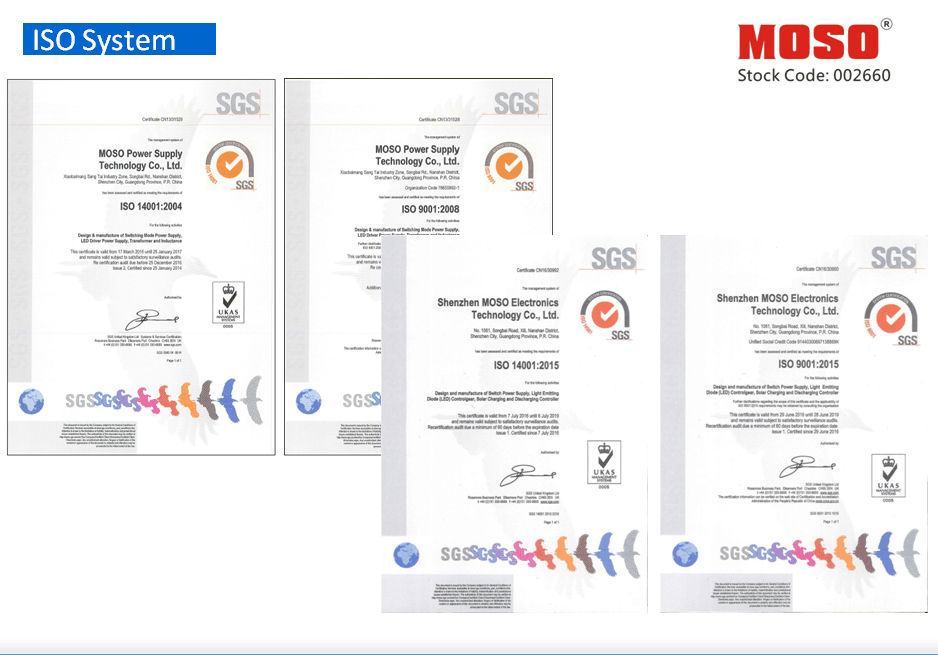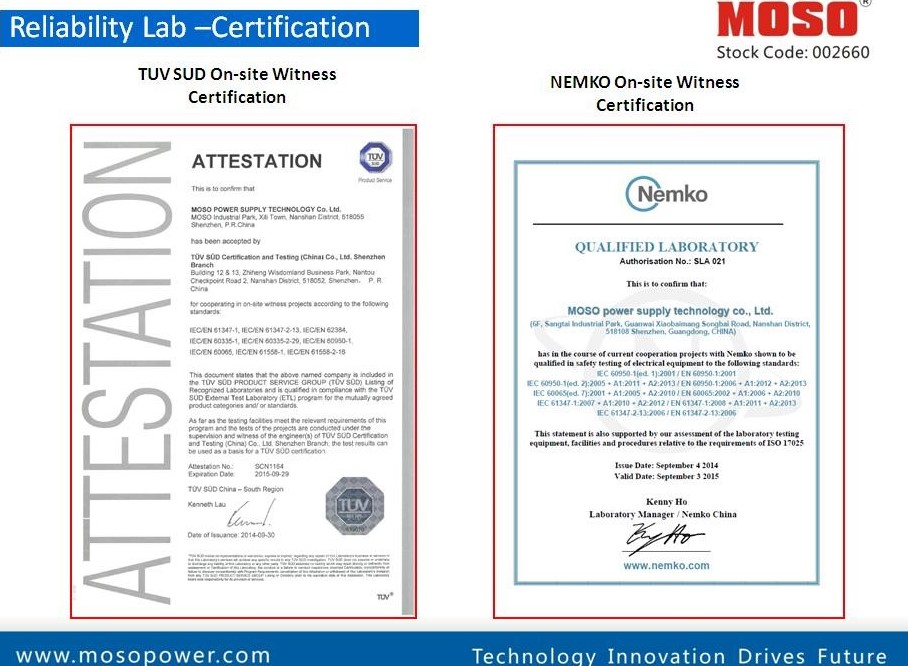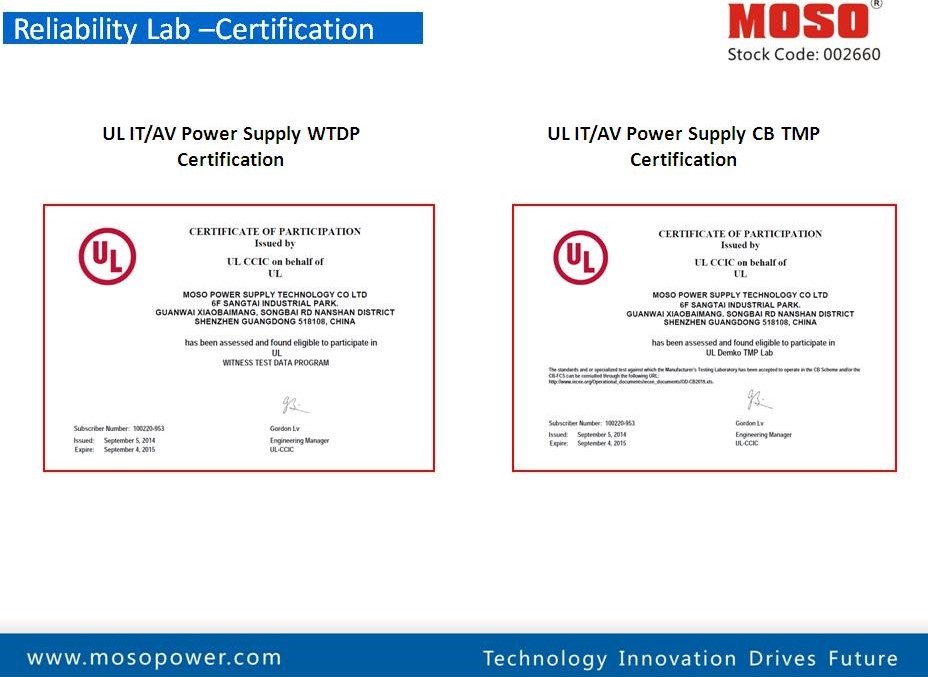 MOSO heeft verschillende distributeurs opgezet in Europa, de Verenigde Staten, Latijns-Amerika, Azië en Australië. Alle MOSO outdoor led-drivers bieden 5 jaar wereldwijde garantie. In het geval van een storing, kunnen klanten worden vervangen door MOSO rechtstreeks of door een van MOSO-distributeurs.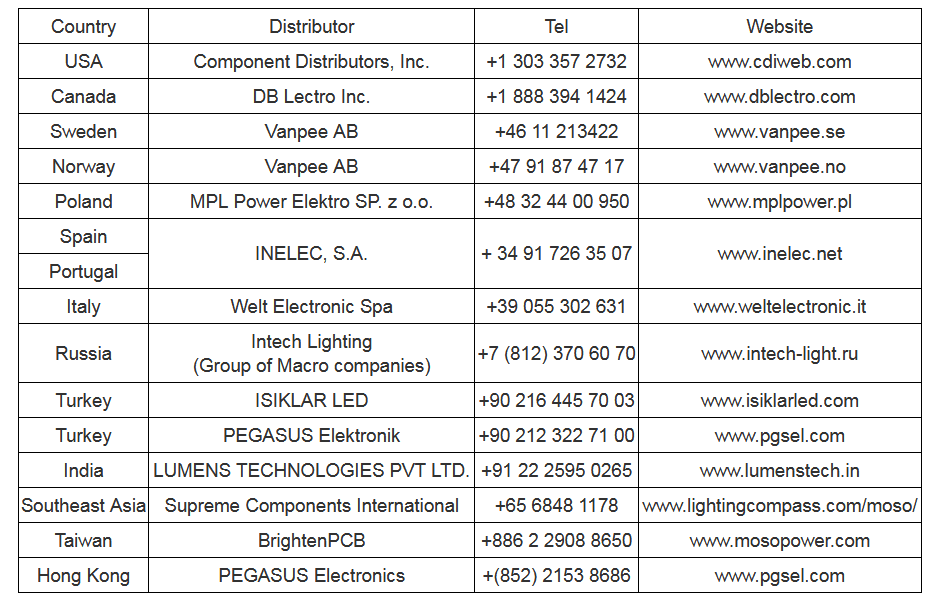 MOSO wijdt zich altijd aan professionele oplossingen voor buitenverlichting. Neem gerust contact op met ons verkoopteam als u ondersteuning nodig heeft!